sweatshirt: Lou & Grey // denim: AG Jeans (maternity) // bag: Harveys // shoes: Nike Vandal 2k // photos were taken by Kristyne Gooden
Happy Friday eve, friends! I'm reaching for Friday like this, and who else is with me?! Today I'm sharing my momstyle Valentine's Day outfit, and **shocker** I'm somehow not wearing overalls. Being totally honest here, they were in the wash and I'm wearing an old pair of maternity jeans. See, I told you this is #momstyle! ELASTIC TUMMY BANDS FO LIFE.
Just like I love elastic waistbands (who the heck doesn't), it was love at first sight when I saw this conversation heart Sweetheart bag from Harveys. Red seatbelt, easy-to-clean, converts-into-a-backpack bag? Sign this mama up!! Harvey's had me at easy-to-clean, and my kids are like, "challenge accepted." Anyway, Harveys nailed it with their conversation hearts series and I vote that everyone needs one of their bags in their life. Hate Valentine's Day? Their "Love Sucks" bag is awesome, and my gal pal Kristyne rocks it like the rockstar she is (psssst…. Kristyne has a blog post up about love and heartbreak, and it's a really good read).
If you know me, you know that I'm a sucker for a good pair of sneakers and that I love Nike Air Force Ones. Who needs the song stuck in their head? Stompin' in my Air Force Onesss… You're welcome. These aren't actually AF1s and instead are the Nike Vandal 2Ks, but whatever, they're just as cool. These beauties popped up on Pinterest one day as I was scrolling in the carpool line (oops) and it wasn't a want, but a need. Hot pink, triple stack with velcro had me nearly foaming at the mouth, and with two clicks on eBay, they were mine (and actually at a steal of a price, new with tags!). I said this on Instagram the other night when I debuted these sneakers and I'll say it again here: I will be putting orthotics in my Air Force Ones when I get old and I plan on spraypainting metallic fuschia tennis balls and attaching them to my walker to match these sneakers. Oh, it'll happen.
So here it is, my desperate attempt to be a "cool mom". A sweatshirt with Walter's favorite food incorporated into it? Check. Shoes that make me feel like a hip mom and yet make my husband cringe? CHECK. All I need is a "Baby on Board" sticker and a preschool bumper sticker slapped on my car and I think I'll have achieved a whole new level of M-O-M.
Oh wait, I'm already there. Hey Honda, I'm ready for my sponsored Odyssey minivan now 🙂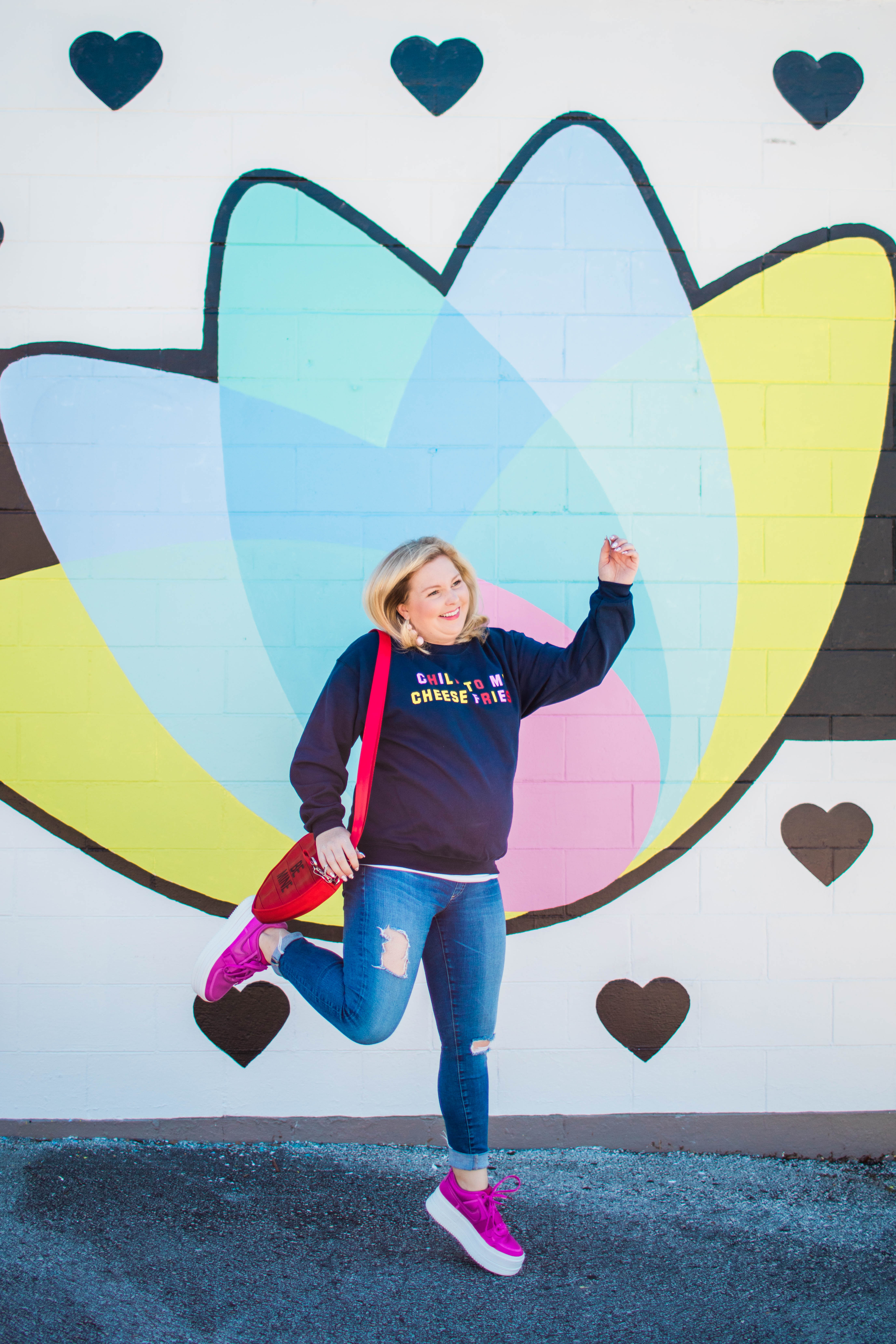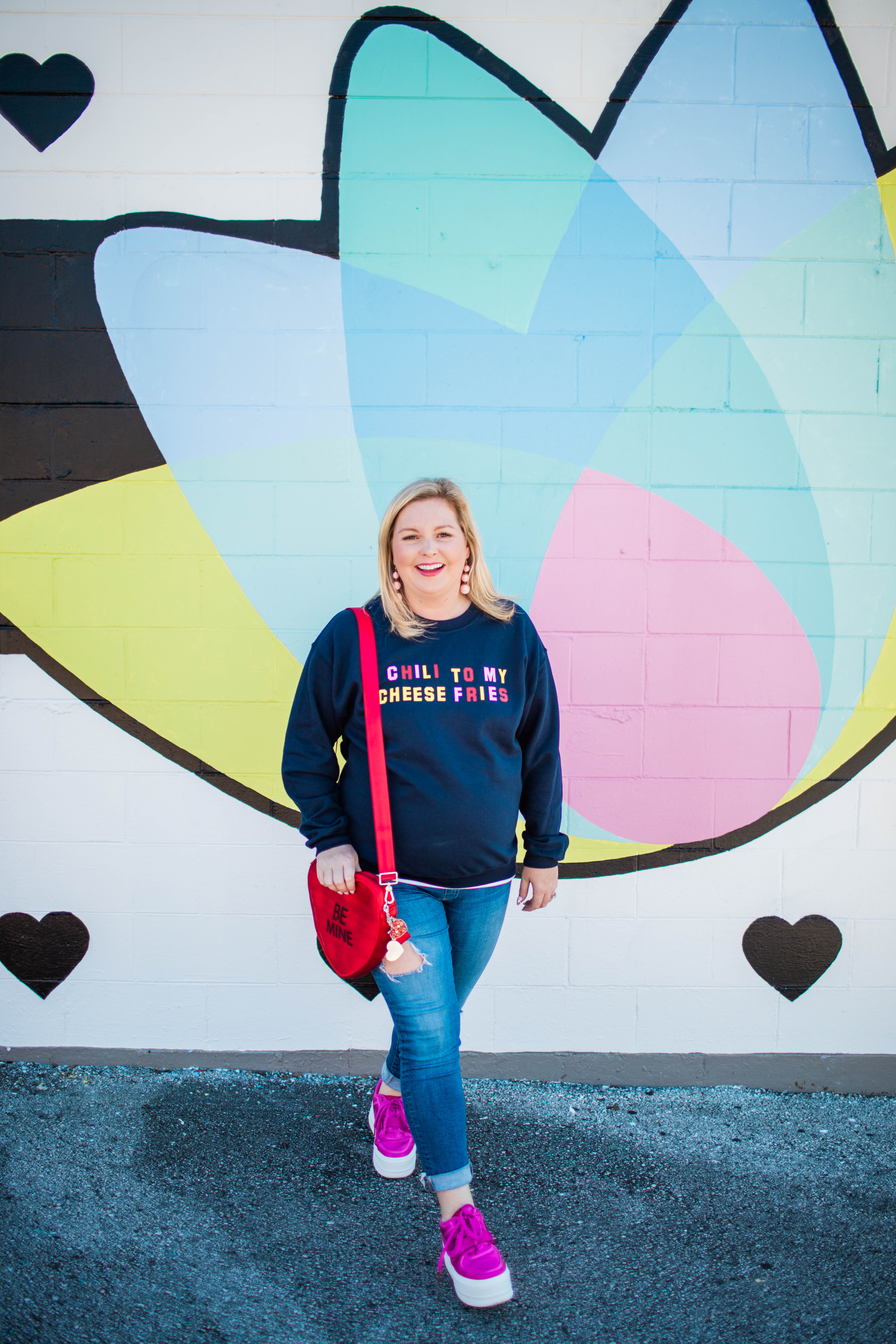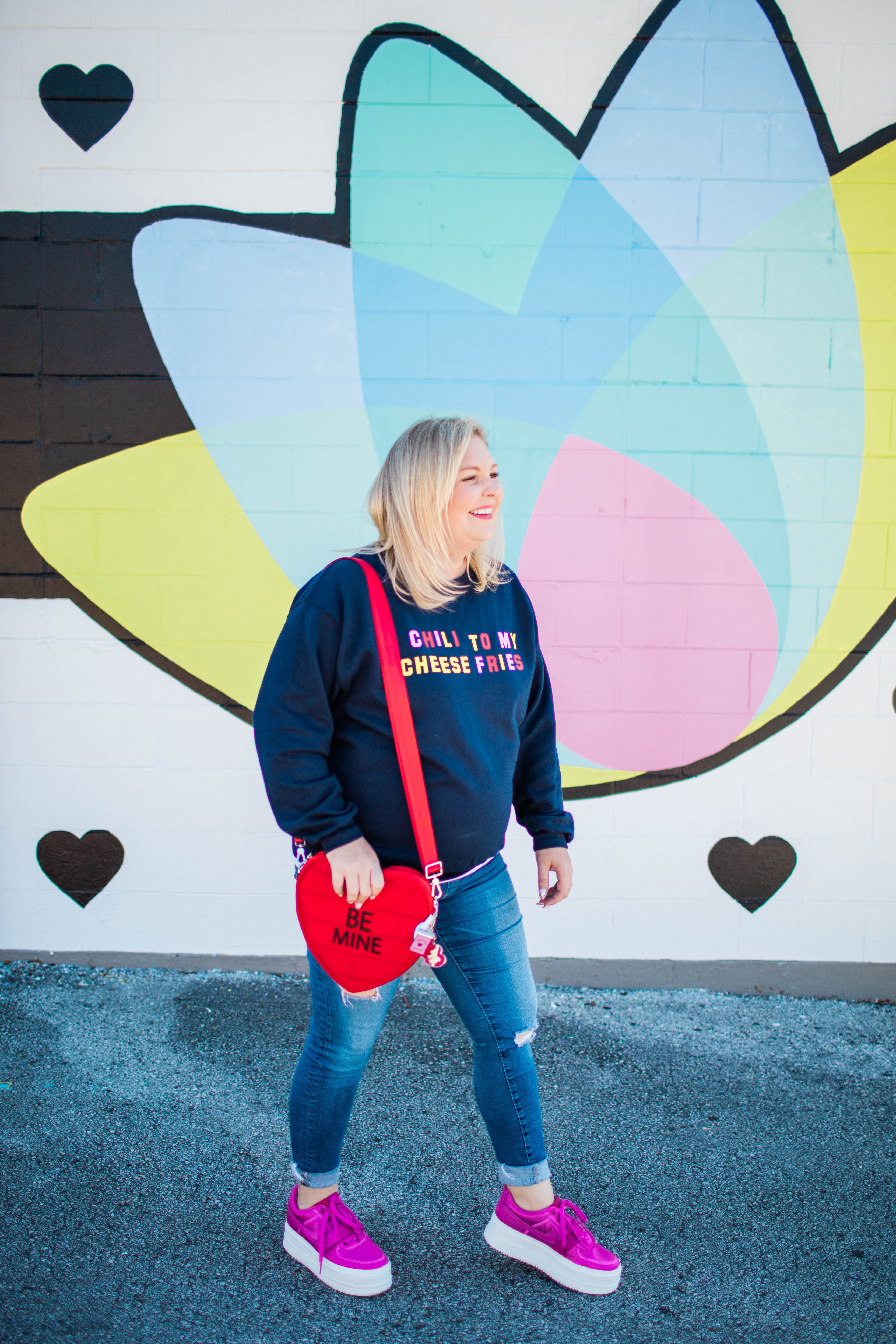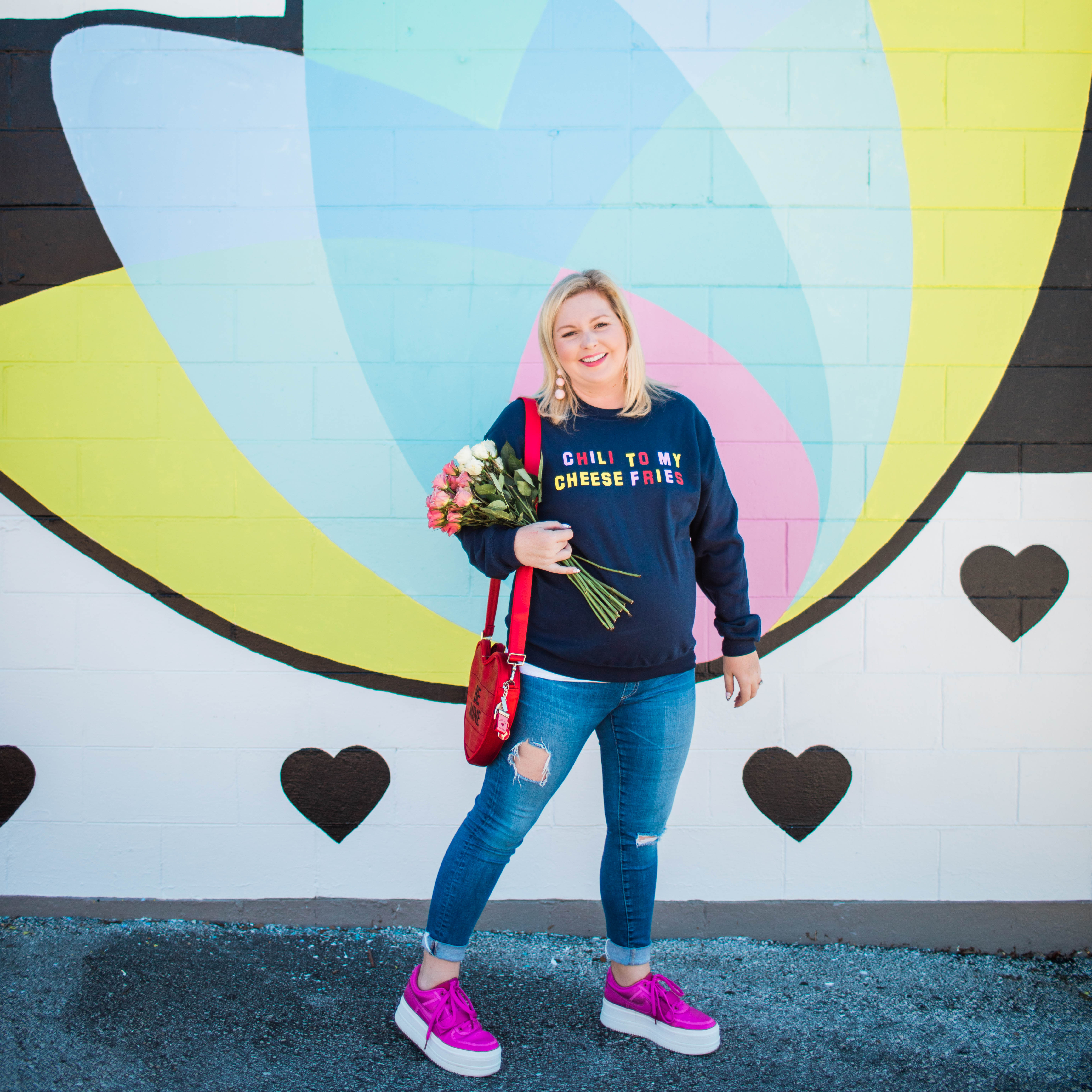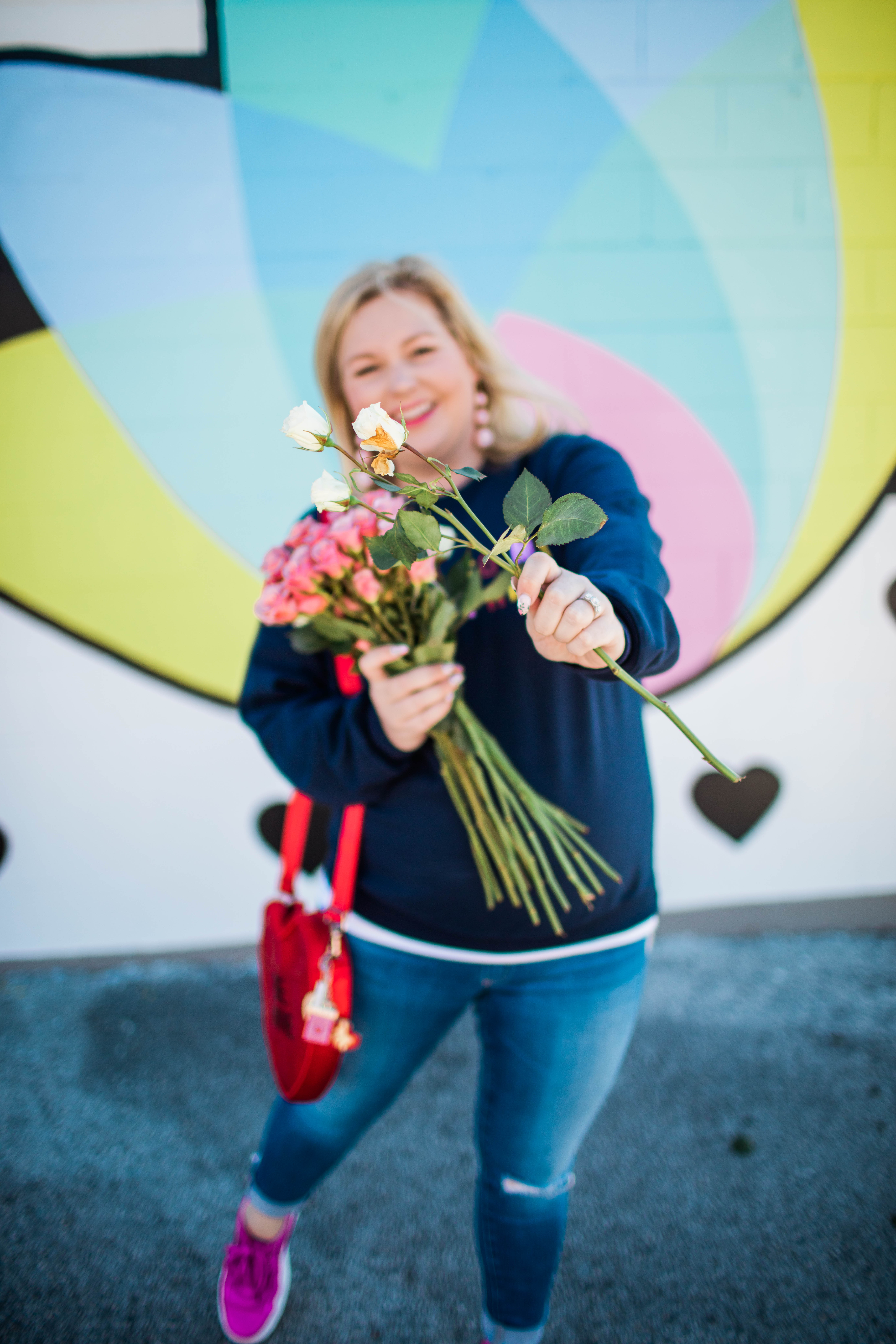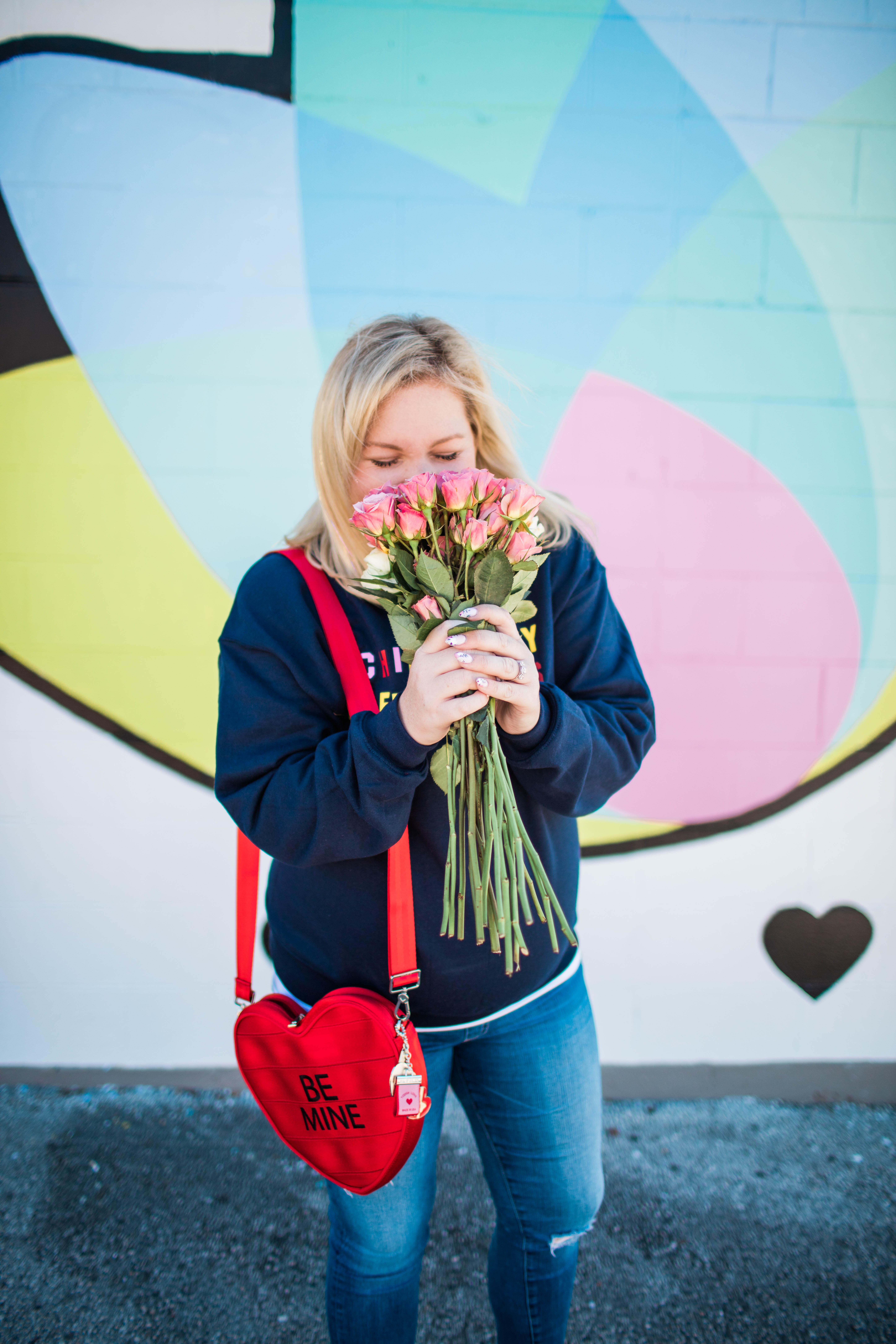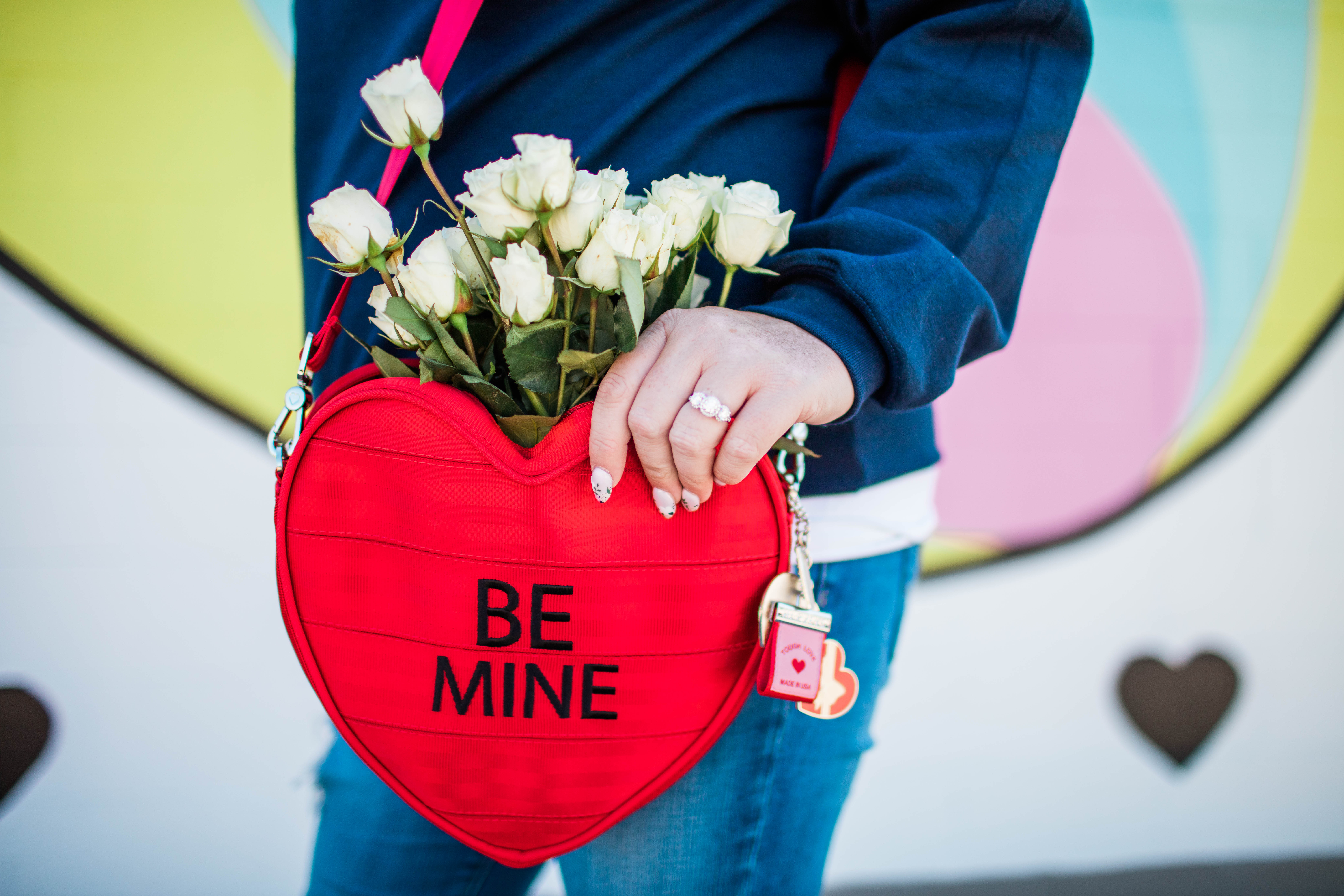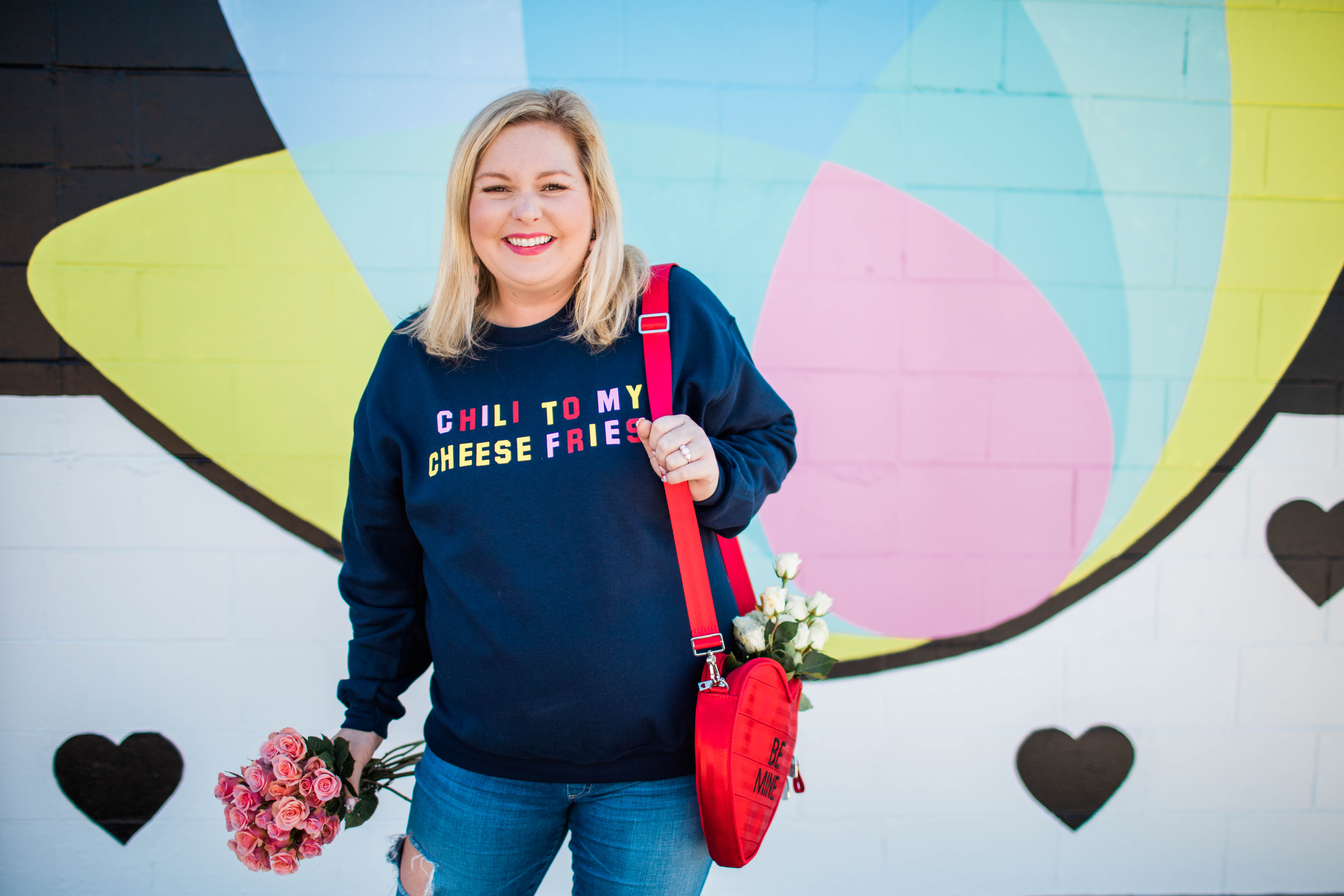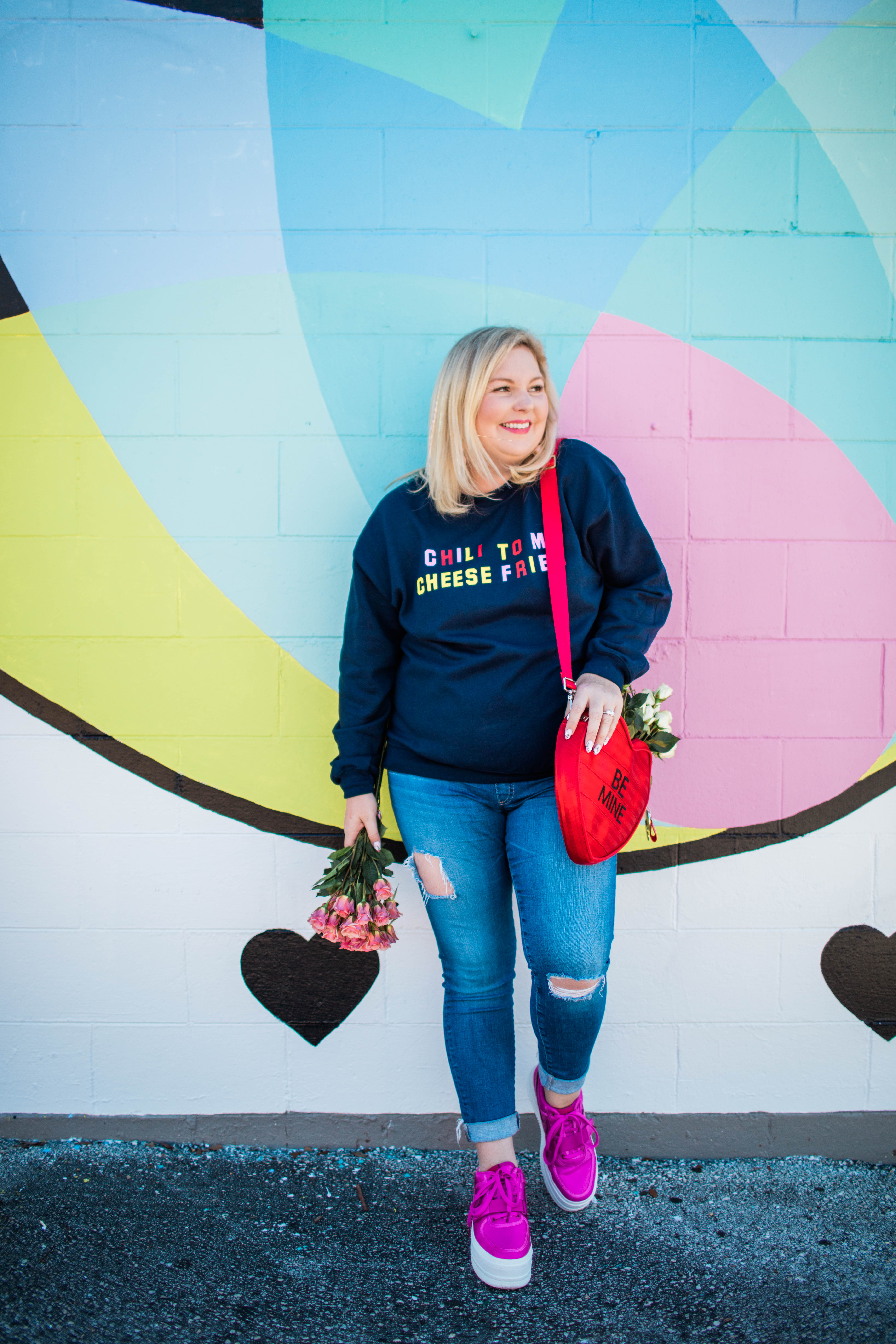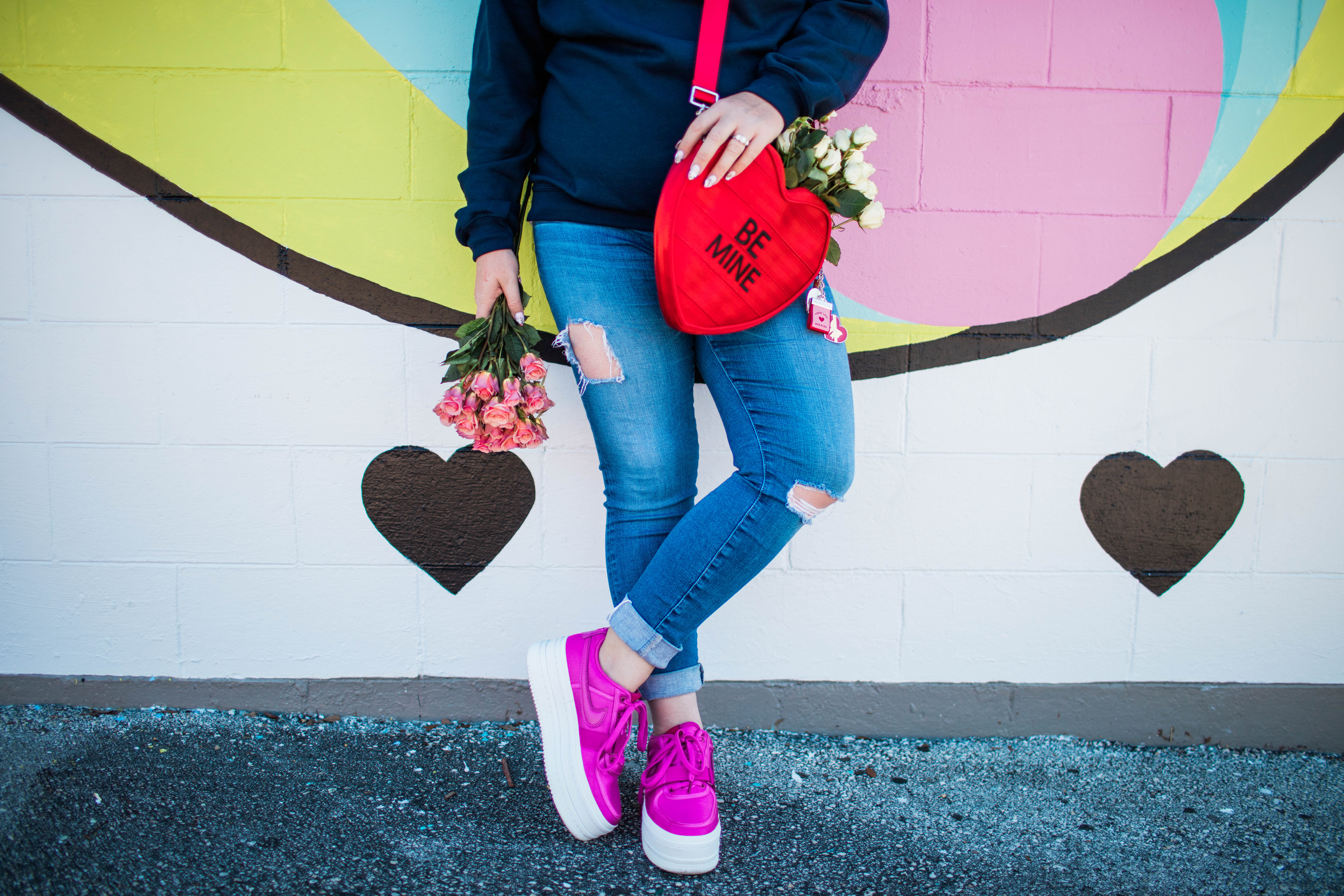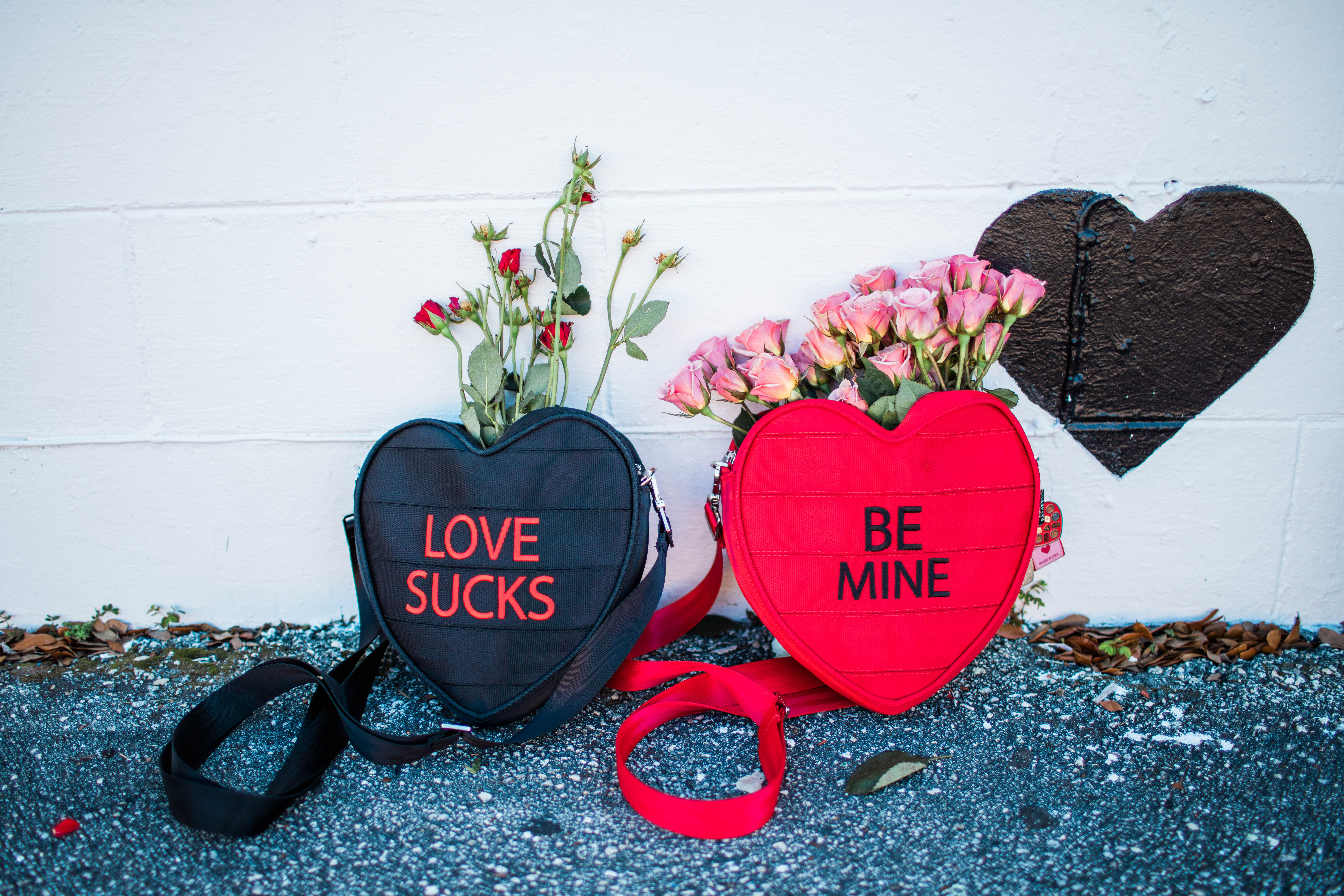 pssst… wondering why the roses are broken in the "Love Sucks" bag? Click here to find out why!